Designed by Modellers for Modellers
New! See our online shop for Smart-Fx
Adds motion, light and sound effects to your model. You can create sequences of motion and light synchronised to your sound effects. Plays any common sound file. Easily programmed – no experience necessary.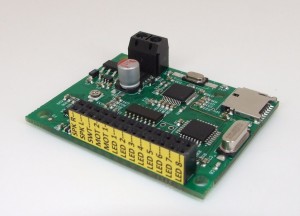 The Smart-Fx controller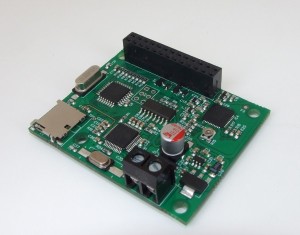 Features
6 LED outputs
2 Variable speed motor controllers
Amplified Stereo speaker outputs
Push button start
Battery or mains powered
Micro SD Card slot
User programmed
Uses standard sound files
New!  See our page on Scale Modelling Now Magazine.  With videos of Smart-Fx in action and a competition to win a complete Smart-Fx model base.
How it works
The SD Card contains instructions for each 'channel' in an easy to read text file.  A channel may be a motor or an LED.  When the start button is pressed, the Smart-Fx controller starts playing the sound file and operates the LEDs and motors according to the channel instructions.
Example instructions for an LED:  This would be in one of the LED channel files e.g. "light1.txt"
N 1
O 10
N 1
O 50
Q
N means turn on, O means turn off.  the numbers are time in hundredths of a second.  Q means start again from the beginning of the file.  This example simulates a strobe light flashing twice, then pausing for half a second, then repeating.
Example Instructions for a motor: This would be in one of the motor channel files e.g. "motor1.txt"
R 0 100 500
R 100 0 100
S 0 200
Q
R means Ramp.  The first R instruction increases the motor voltage from 0 to 100% over 5 seconds and the second R instruction reduces it from 100% to 0 over 1 second.  S means "Set" and sets the voltage to 0 for 2 seconds.  Then the sequence starts again.
When the sound has finished playing, all channels are switched off and the Smart-Fx controller goes into a low-power sleep mode until the start button is pressed again.
Specifications
Standard Micro SD card for sounds and user-defined program
Onboard 20 watt Stereo amplifier
6 LED outputs to program as On, Off, Flashing, Pulsing & Strobe
2 Variable speed motor outputs – can also control dimming LEDs
Sound files supported: .mp3 .ogg .wav .wma
Input voltage: between 6 and 12 volts
Size: 44mm x 55mm
Accessories
Pre-wired LEDs in a variety of colours
Pre-wired Airfix motor AF1004
400mm Square Display Base for your model, other sizes available
2 x 8 Watt 4 Ohm Full Range Speakers
Start button
On/Off switch
Battery power pack (4 or 8 x AA Batteries) or Mains power supply