Obviously we are more about making new electronics for our customers than patching up damaged boards.  However, there are a lot of circuit boards out there in the world that we
didn't
make, and from time to time, they fail.  When the failed board is expensive to replace – say £200 or more – and when the failure mode is obvious, it can make sense to have it repaired.  Recently we were asked to replace some components on an HDC board from a Mimaki JV5 printer.  This is a big industrial printer that has a number of HDC boards and a penchant for blowing them up when the print-head cable wears and shorts out.  Which it does quite often, apparently.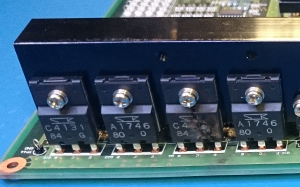 We discovered that the big transistors go bang, as you would expect…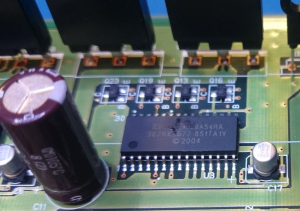 but also take with them some small transistors, at least one surface-mount chip…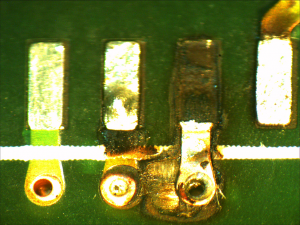 and a PCB pad, which went west with a leg of the chip when it blew.
All of which makes for a challenging repair, but nothing we can't handle.  With the repairs costing around 25% of the cost of a new board, it made good economic sense to repair this one, and we expect to see more of these boards in the future.